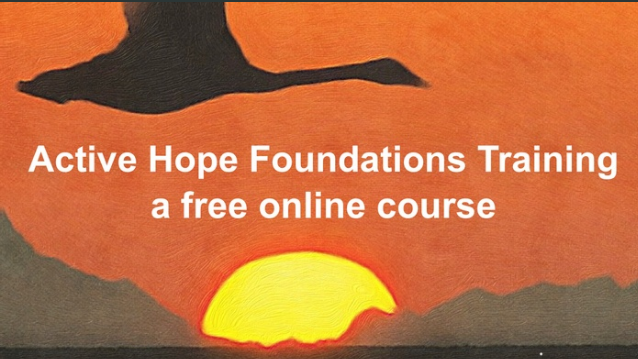 a video-based training in Active Hope Foundations that is free of charge and which you can start at any time.

by Chris Johnstone, co-author of Active Hope, with contributions from Joanna Macy and others.

Week 1 – introduction to the course and Active Hope Training
Week 2 – Coming from Gratitude – resourcing ourselves for a stronger starting point
Week 3 – Honouring our Pain for the World – looking at what helps us mobilise the energy of our heart reactions
Week 4 – Seeing with New Eyes Part 1 – opening to encouraging and inspiring perspectives
Week 5 – Seeing with New Eyes Part 2 – exploring the four discoveries linked to how we see ourselves, our power to make a difference, the communities we belong to, and our experience of time.
Week 6 – Going Forth – finding our part to play, and planning how to move forward with this
Week 7 – Conclusion and next steps – looking back at the journey we've covered and ahead at potential next steps.